NBC, are you trying to kill me, or just drown me in a pool of my own tears? In just under a month, both
Parenthood
and Parks and Recreation have ended their respective six and seven year runs. What are we supposed to do now? Watch shows that
aren't
honest and beautiful depictions of human relationships? It's almost too sad to talk about.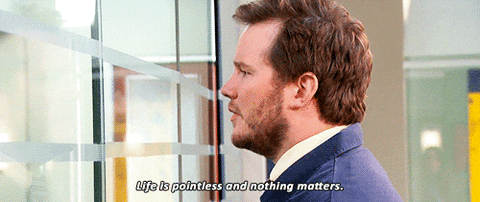 *
*
Alright, alright. I should probably take a page out of the Parks book and focus on the positive. For a series frequently on the brink of cancellation, we were beyond lucky to have it on the air for nearly a decade. Plus, it got to go out on top, still bringing the laughs in its incredibly well crafted and inventive final season. Sure, the show had some stumbles along the way, but I think its high points (The Harvest Festival! Leslie's campaign! Ben's wedding proposal! Hang on while I go watch the whole series again real quick...) put it in the company of some of the greatest sitcoms in television history.
If Parenthood's defining theme was "family", Parks and Recreation's was most certainly "friendship". The series was a master class on the subject, giving all of us viewers something to aspire to. Because while the Parks crew didn't always agree on everything, they were
people
first and political ideologies second. The characters actually listened to and learned from each other, shared what they were passionate about, and collaborated to make other people's lives better (even those frustrating townies who always found something to complain about). Throughout its run, Parks was a model for how
good
we could really be; a stealth public service announcement for the benefits of civility and respect. And it did all of this while being supremely and utterly silly! It takes a special show to pull off a combination like that, and Parks and Rec did it masterfully.
**Warning: Spoilers ahead for anyone who hasn't watched last week's finale, "One Last Ride"**
In the final episode, Leslie, Ben, Ron, April, Andy, Tom, Donna, and Garry/Terry/Jerry/Larry meet up one more time in their old office before everyone scatters to follow their dreams*. Before they say their goodbyes, Leslie convinces everyone to go on one last mission: helping a Pawnee citizen by fixing a broken swing in his local park. As Leslie leads the team, we visit each member of the ensemble in the future, experiencing success, change, and the many surprises that life brings. We get to see Donna and Joe start the non-profit "Teach Yo' Self", a wedding for Craig and Typhoon, and a new baby for April and Andy. Tom becomes a successful writer on the subject of failure, Ron gets to start a new adventure as head of the Pawnee National Park, and Garry remains the city's most beloved mayor until his 100th birthday (yay, Garry!).
*Check out the extended producers cut on
NBC.com
for a few more cast flash forwards including Jeremy Jamm, Shauna Malwae-Tweep, and Bobby Newport!
In another time-jump to 2025, after Ben and Leslie are both approached to run for Governor of Indiana, Ben gathers everyone (including Ann and Chris!) together again in Pawnee to help them decide who should run. Even though we know it's going to be Leslie's race to lose, this last reunion is a sweet one. We get the satisfaction of seeing these friends back together again in the future, certainly changed, but in many ways the same as they were all those years ago. In 2035, Leslie makes a commencement speech at IU, inspiring the graduates to "find your team, and get to work". And therein lies the thesis statement of Parks and Rec (well, it's either that or something about the superiority of breakfast foods, as I'm sure we can all agree). With a final flash back in time, we see Leslie, sad to leave Pawnee but ready and willing to take on her next, big adventure (cue the tears). I ask you, could this show end any other way?
I will admit I was hoping for more laugh-out-loud moments from the finale, and I was disappointed that we didn't get a full future story line for Ann and Chris (Why? They're two of the most important characters!), but overall, this ending left me feeling deeply satisfied. We got to spend seven years with these folks, and the fact that we got to see good things happen to them? That, to me, was the cherry on top of the Belgian waffle that was this show.
- Donna finds the paperwork the team needs in "Thanks
Form
The Memories", Leslie's scrapbook dedicated to government forms.
- Some hidden gems: the presence of a Jean-Ralphio brand wine in the future, Mayor Garry's name spelled wrong almost everywhere it shows up, the StarLord-dressed trick-or-treater at Andy and April's house, and the fact that the concerned citizen (Jon Daly) was the drunk stuck in the slide in the pilot episode!
- Everyone has colorful hair in 2025, except Leslie who accidentally ate the special pills that you're supposed to use topically…because they were delicious.
- Could the security detail at Garry's funeral and the end of Leslie's commencement speech mean that she ends up becoming president? I sure hope so, but I love that it was just slightly hinted at so we could decide for ourselves.
- Also, Garry's wife never ages! And Ben is still confused and obsessed with this fact as always.
- Ron's smile as he canoes out into his new job. Perfect.
- Future Leslie still hates both vegetables and libraries (even those named after her) with a passion.
- The end credits are what really made me lose it. What can I say, I'm a sucker for outtakes, and of course, that cast group hug put it over the top.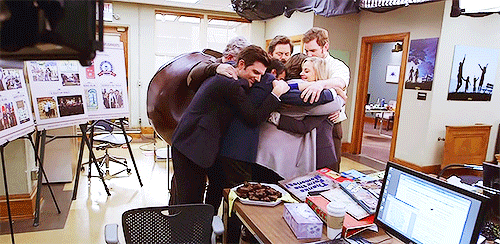 "That's a series wrap on Parks and Recreation."
Well, Parks and Rec, all I can say is thank you. Thank you for the laughs and the tears. Thank you for giving us Lil' Sebastian and "Treat Yo Self" and Cones of Dunshire and Galentines Day. Most importantly, thank you for giving all of us a truly incredible heroine in Leslie Knope. May we all strive to have her ambition, her gift-giving skills, her drive to make the world a better place, and her passion for waffles (we already share that last one, so the rest shouldn't be too hard). The good thing is, if we ever need a shot of positivity, Pawnee is only a re-run away.
Want more on the Parks finale? Check out the cast on
Late Night With Seth Meyers
, Entertainment Weekly's inside look at the
last day on set
, and an interview with executive producer and deadline.com's interview with showrunner,
Mike Schur
.
Until next time, keep watching!