Happy Memorial Day Weekend, friends! I hope you've got your American flag sunglasses and
Kan Jam
ready for your BBQ (I know I do).
Let me just start by saying I can't take credit for the title of this post - it goes, of course, to Leslie Knope, the queen of lady friendship quotes (and friendship in general), but I have a feeling she wouldn't mind me using it to promote some of the best female friendships on TV.
Last month, USA premiered a new comedy, Playing House, starring real-life best friends (and comedy podcast regulars) Jessica St. Clair and Lennon Parham. Previously of the short-lived sitcom, Best Friends Forever, St. Clair and Parham have a lived-in chemistry that only true friends can bring to the screen. Here, they play Emma and Maggie, best friends from childhood who never let being a world apart keep them from staying in touch. After a pregnant Maggie discovers her husband's penchant for having online affairs, Emma leaves her high powered job in China, and moves back to their small Connecticut home town to help Maggie through her divorce, confronting the people and the life she left behind years before. It's the small moments between these funny women that make Playing House so fun to watch, and so relatable. An inside joke here, a knowing look there, or a dead-on depiction of watching a horror movie with a friend should all hit close to home for a lot of female viewers desperate to see their own relationships reflected on TV. Unfortunately, the rest of the show has yet to catch up with this central duo, but with a cast that features comedy pros like Keegan-Michael Key, Andy Daly, Zach Woods, and Jane Kaczmarek, it's safe to say that with a few writing tweaks, Playing House could turn out to be appointment viewing. Until it gets there, the show (like most of the stuff on USA) is still a perfectly pleasant diversion, and something I'd recommend watching when you can catch it. Check out the first five episodes on demand, or on usanetwork.com!
Playing House airs Tuesdays at 10PM on USA
Watching Playing House these past few weeks got me thinking: it's rare to see a really great depiction of female friendships on TV. To quote Carrie Bradshaw,
I couldn't help but wonder
, what are some of the best representations of girl-friends on the small screen, and what makes them realistic and unique? Surprisingly, there aren't as many to choose from as you might guess (although the tides are turning, and I'm very happy about that) but after giving it some thought, I came up with the list below - sorry all you girls from Girls, although you had
a great third season
, none of you are actually
good
friends to each other, so you definitely don't make the cut. Better luck next year!
Liz's Favorite Lady-TV-Friendships:



Quite possibly my favorite female TV friendship of all time, Mary and Rhoda truly know what it means to be there for your girl no matter what. If only we could all be so lucky as to have our best friend right downstairs when we need a cup of coffee or a shoulder to cry on, or someone to help pick out an awesome head-scarf...

Carrie, Charlotte, Miranda, and Samantha: Sex and the City
From bad break-ups (THE POST-IT!), to bad days, to really, really bad outfits, the ladies of Sex and the City were there for each other through it all. The show exposed what real, adult conversations sound like between close friends, and gave women everywhere that "finally someone gets it!" feeling that was desperately lacking until they arrived on the scene.
Daria and Jane: Daria
Daria found her sarcastic sister from another mister, Jane, at a low self-esteem workshop on her first day at Lawndale high, and the two were a match made in misfit heaven ever since. This proud to be uncool (before that was cool) dynamic duo made it through high school hell and boyfriend drama with plenty of pizza dates and TV marathons - ah, girls after my own heart.
Phoebe, Rachel and Monica: Friends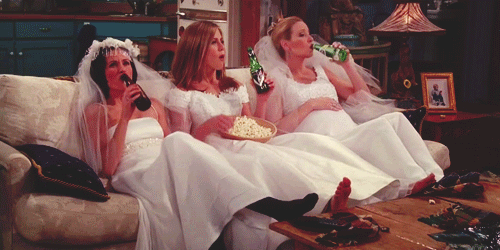 These three shaped the way I saw female friendship from a young age (but like Mary and Rhoda, they also made me believe my best friends would always live in my building...). Through crazy jobs, break-ups, marriages, and babies, the girls became family, and even in syndication, they still inspire me to always "be there for" all the ladies in my life.
Abbi and Ilana: Broad City
You guys know how I feel about the
magic that is Broad City
, and of course what makes the show so special: the central friendship between real life best buds, Abbi Jacobson and Ilana Glazer. These two have, in my opinion, the most realistic and relatable friendship on TV right now. It's great that neither Abbi nor Ilana is a wet blanket, tamping down the others' insanity. Instead, both are up for adventures and hi jinx that rival that of the next pair on our list, taking NYC one joint, lost phone, wedding weekend, and apartment hunt from hell, at a time.
Lucy and Ethel: I Love Lucy
The original lady-TV-friendship to end all lady-TV-friendships, Lucy and Ethel defined a generation, bringing two hilarious women together and setting the standard for every sitcom that came after it. Sure, Ethel wasn't always one hundred percent up for Lucy's crazy schemes, but their adventures together made for some of the best comic moments the small screen has ever, or will ever, be known for. If you can find someone to stomp grapes, scarf chocolates, and...trick your husbands (?) with, consider yourself Lucy-and-Ethel-lucky.
Leslie and Ann: Parks and Recreation
Ann, you beautiful, tropical fish. In the pilot episode of Parks and Recreation, a frustrated Ann Perkins meets city employee Leslie Knope at a town hall, desperate for someone to fill in the pit outside her house. Six seasons later, the pit is finally a park, and Leslie and Ann become inseparable friends in the process. They support each other romantically (Leslie will turn a Valentine's Day dance into an opportunity for Ann to find true love; Ann will get Leslie the confidence - and the waffles - she needs to prepare for a first date) and professionally like no other girl-friends on TV. Since Rashida Jones left earlier this season (and we all cried), the next "one true pairing" of friends has some big shoes to fill. At least we have one more season - and plenty of guest cameo possibilities - before P&R says goodbye for the last time.
Jenny, Cynthia, Trixie, and Chummy: Call the Midwife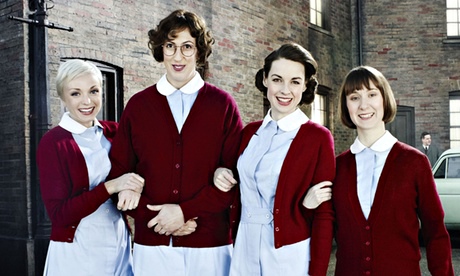 Talk about supporting each other professionally! These four ladies are constantly helping each other deliver babies in some of the most high stress circumstances you could imagine. Living in a convent in London during the 1950s, the midwives are constantly facing the harsh realities of East-end poverty, and the challenges of home child birth with few resources. But these gals make it look easy, caring for and respecting each other like no other group on TV. Here's to another season, Midwife fans!
Got any that I missed? I'd love to hear your favorites - leave 'em in the comments below!
ORPHAN BLACK RECAP: Season 2, Episode 5: Ipsa Scientia Potestas Est
What didn't happen this week? After saving Sarah from Daniel, Helena gets sent to Art's where she eats donuts ("these I like") and inevitably escapes, on the war path to murder Rachel. Sarah and Art intervene (why, though?) and the pro-clone gets to live another day, sexually abusing her new monitor, Paul, who can't seem to tell if he's into her creepy dominatrix-persona or not. Meanwhile, the Prolethians have gotten much more effed up, sewing Gracie's mouth shut - shudder - after she let Helena escape their creepy farm. Also, Cosima is getting secret treatments from Dr. Leekie and Delphine that may save her life - Rachel isn't aware of this yet, but I'm afraid to find out what will happen when she discovers the truth. No sign of Alison this week (boo!) but we can all assume she's starting up the rehab's first musical theater troupe and complaining about the lack of organic food. Tonight, let's hope Felix's name is cleared after Paul's horrible gun-fingerprint-blackmail, and OH, it looks like Mrs. S. knows Paul after all...DUN DUN DUN.
NEXT WEEK:
Let's take it back to where we first started
almost one year ago
- wow! The summer TV season is coming, and I'll be here to fill you in on what's worth watching after those long, hot days at the beach. Break out the aloe - we're burning through summer premieres!