Ugh.
January.
I feel you, Molly.
It's cold, it's dark, the holidays are over, and we're all just a bunch of vitamin-D deprived human sleeping bags trying not to pass out before 8PM on a weekday. Well friends, I urge you - PLEASE TRY! Get caffeinated any which way you can post-work (or just stay home?) because
damn
there are a lot of great things coming out this mid season that I know you'll want to be fully awake for.
Exhibit A: The long-awaited return of Comedy Central's extraordinary sitcom, Broad City! And while we may be freezing our butts off IRL, our favorite blazed buddies, Abbi and Ilana, are sweating through a New York City heat wave in their season two opener, which premiered this past Wednesday, January 14th.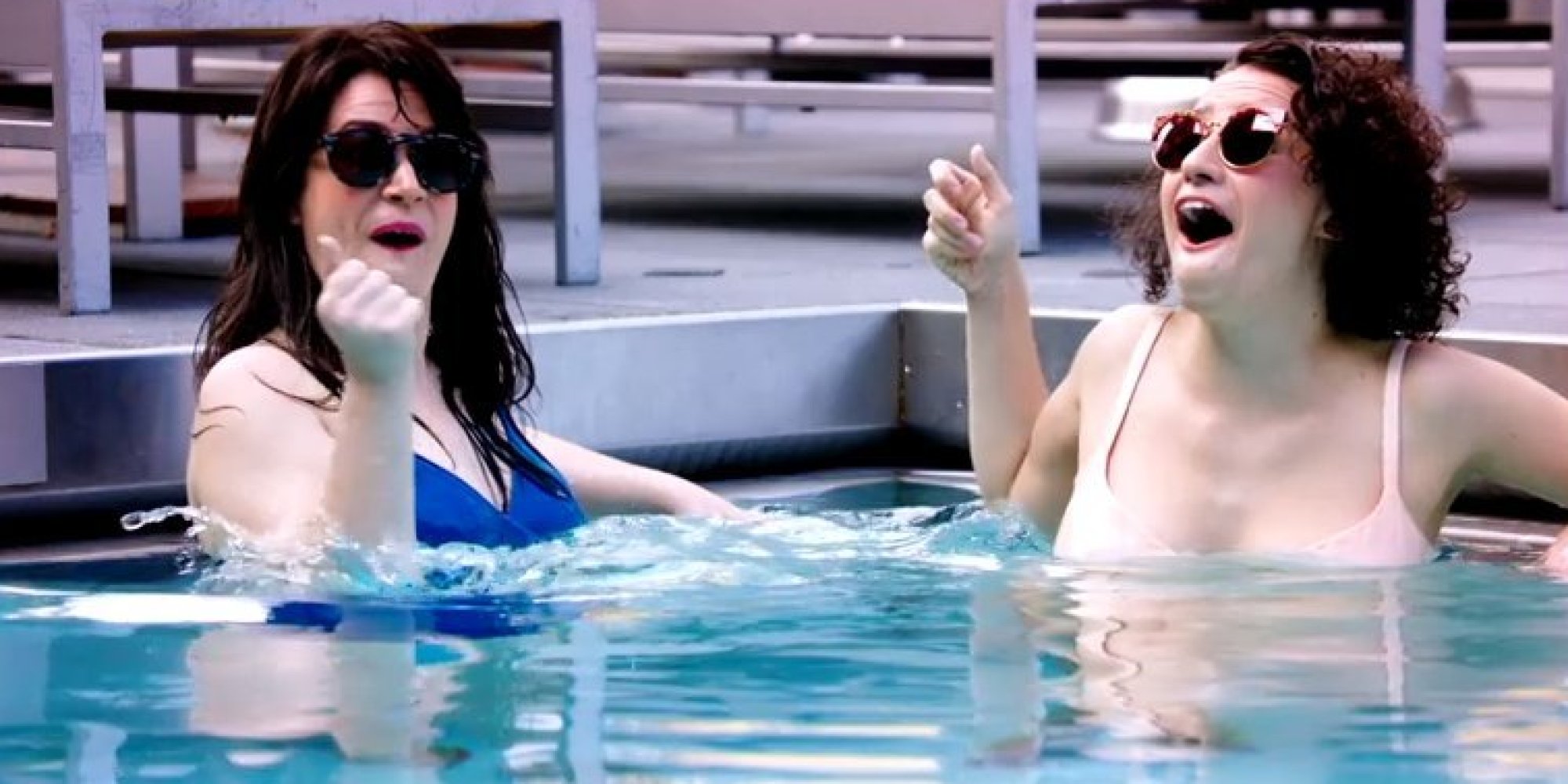 If you read this blog (or know me personally, or have only met that one time on line at Panera) you know that
Broad City
was my
favorite new show of 2014
. It's hilariously written, perfectly and subtly acted, and depicts the New York City that I have come to know - and both love and hate - in a way I've never seen it before. Abbi and Ilana's NYC is dirty, surreal, and populated with the kind of specific nut jobs that I've actually seen walking down 6th and A on any given day. Last year, these ladies came to us fully formed and ready to take on the five boroughs (plus one
mysterious - and actually real - island
) and all of the crazy contained within them. After watching this season's premiere, I'm happy to say Broad City returns even stronger than before, continuing to carefully and realistically build upon its unique world, and the broads and dudes that inhabit it.
We meet up with Abbi and Ilana on the hottest, stickiest day of the summer. With no air conditioner in her apartment, Abbi accidentally "takes advantage" of her new boyfriend, Male Stacey (played by Seth Rogen!), after he passes out from the heat. Afraid she's become an unintentional female rapist - thanks, of course, to Ilana - Abbi enlists her friend's help in tracking down an AC so that she can have her man over without the possibility for another…mishap. And thus begins the type of bonkers quest that Broad City does best. First, the ladies go to Abbi's beloved Bed Bath and Beyond where her frequent shopper status is cemented by multiple,
complex secret handshakes
with the employees. But after the AC she purchases gets stolen off the sidewalk, they have to find more creative ways to get some cool relief. They help Abbi's pseudo-roomie Bevers' friend (awesome guest star number 2, Kumail Nanjiani) move while he creates his Amazing Race audition video, but his AC promise to them is literally broken, thanks to a Facebook post misunderstanding. Finally, they head to Ilana's old dorm room to try and steal her air conditioner, but end up smoking her secret stash with the current residents who turn out to be a
little
younger than they expected. In the end, we get a brief AC celebration, a screaming match with a mystery kitten, and an intimate moment between Ilana and Lincoln (who shall from this moment on be known by his blogger name, "The Aldente-Dentist") over a stolen NYU meal card. With that, another day in the life in Broad City comes to a close; it's next chapter already off to a hell of a start.
As we move through the city with our two high heroines - and "moving" is the operative word, as this show totally thrives on manic energy - it's hard not to notice how much action they pack into 22 short minutes. But with Broad City, it's not so much about
what
happens, but
how
these two friends interact and deal with the insanity that's around - and is created - by them. In the excellent cold open, the two traverse a moving subway full of obstacles including pervs, toe-nail clippers, and poop cars** (all only only slightly heightened from an actual MTA-rider's experience, by the way). Watching Abbi and Ilana react to these often unknown pitfalls that come with life in the city makes both the show, and their relationship hit close to home. Their conversations are often such dead-on representations of how my girl friends and I talk to each other, I constantly find myself smiling with recognition and the pure thrill of seeing the kind of women I know and love reflected on television. But honestly, you don't have to be a New Yorker or a woman to relate to these ladies, their friendship, and their mini-triumphs over the unexpected garbage we all have to put up with on the daily. I for one can't wait to keep cheering on these bad-ass bitches all season as they take on their city together, one adventure at a time.
**Broad City is simply excellent at being disgusting. In addition to the "poop car" visual, everyone is literally drenched the whole episode, and the "sweat angel" that Bevers leaves in Abbi's bed is so gross, but so perfectly…
Bevers.
While I could talk about Broad City all day (challenge accepted - call me if you would like this to happen) I wouldn't be doing my job if I didn't alert you to the veritable goldmine of other shows airing this mid season. Check out my handy calendar below for premiere dates and where to find your returning favorites!
Already on:
Empire, Wednesdays at 9 on Fox new!
Hindsight, Wednesdays at 10:30 on VH1 new!
Portlandia, Thursdays at 10 on IFC
Cold Justice, Fridays at 8 on TNT
Shameless, Sundays at 9 on Showtime
Girls, Sundays at 9 on HBO
Togetherness, Sundays at 9:30 on HBO new!
Parks and Recreation, Tuesdays at 8 and 8:30 on NBC **final season**
Broad City, Wednesdays at 10:30 on Comedy Central
Coming up!
Fresh off the Boat, Wednesday, February 4th at 8 on ABC new!
The Odd Couple, Thursday, February 19 at 8:30 on CBS new!
Last Man on Earth, Sunday, March 1st on Fox - March 1 new!
Broadchurch, Wednesday, March 4th at 10 on BBC America
Call the Midwife, Sunday, March 29th on PBS
Orphan Black, Saturday, April 18th on BBC America
Inside Amy Schumer, Tuesday April 21st on Comedy Central