Happy Halloween to all you zombie cops, Waldos, and Miley Cyrus look-a-likes!
I hope all of your pillowcases are full of candy, and your pumpkins are still squirrel-free.
To keep the holiday spirit going, here's a king-sized bonus post! So take off that sweaty mask and break out the Butterfingers - here's my
TOP 5 Halloween Sitcom Episodes of All Time
:
5. New Girl - "Halloween"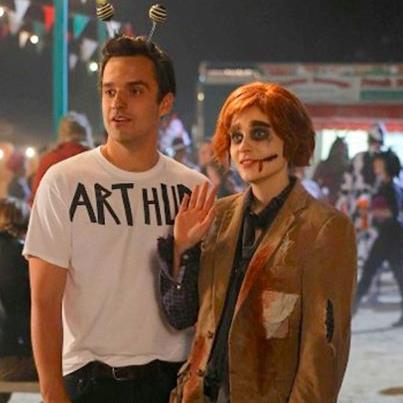 Nick initially wants to impress his visiting college crush, Amelia, but after they actually get together, his fear of committment rears it's ugly head. On Halloween, Zombie Jess is working at a haunted house (which turns out to be less scary than telling her new crush Sam her true feelings) and accidently gets punched for scaring a phobic Nick. Schmitt transforms from Abe Lincoln to Magic Mike after a fight with Ninja Turtle Robbie, and Cop Winston and Pretentious-Costume Shelby ("Reigning Cats and Dogs"? Come on.) break up. It's an episode with a lot going on, but I love how it tackles how the high expectations of Halloween don't always match up with reality.
Best Costume:
Nick as "Bee" Arthur (Thanks Jim Halpert for setting the precedent that it's cool for guys not to put effort into their costumes by giving us Three-Hole-Punch version of Jim in The Office, "Halloween")
4.
Modern Family
- "Halloween"
Halloween obsessed Claire and and Phil (as Zombie Bride and Groom) want to make their house terrifying for the neighborhood trick-or-treaters, but things don't go as planned. While I'm not the biggest Modern Family fan these days, this episode brings the talented cast together with great writing to make comedy magic.
Best Costume:
Cam as Head on a Platter

3
.
Happy Endings
- "Spooky Endings"
The Chicago gang brings it for one of the funniest episodes of the series. Brad and Jane try to spend Halloween in the "quiet"suburbs but quickly learn the dangers of running out of candy too early. At the Monster Mash Pumpkin Bash, Alex goes as Marilyn Monroe but gets mistaken for a man in drag, Dave tries and fails to get a girl as Austin Powers, and Penny and Max both struggle to flirt with guys while attached in their ill advised couples costume. This episode also has David Walton's second guest appearance in the countdown (he also appears as Sam in New Girl's "Halloween"! He must love Halloween specials as much as I do...
Best Costume:
Penny and Max as New Mom and Baby in Baby Bjorn
2
.
Friends
- "The One With the Halloween Party"
Bunny Chandler and SPUD-nik (let's be honest, he's Doody) Ross have an arm wrestling match to impress their respective ladies, Catwoman Monica and Nurse Mona. Meanwhile, a pregnant Rachel practices being maternal by giving out candy - and cash - to trick-or-treaters, and Phoebe meets her twin sister Ursula's fiancé (Sean Penn!!). A classic.
Best Costume:
Joey as Chandler
And a Three-Way-Tie for #1
.
Parks and Recreation
- "Greg Pikitus", "Meet 'n Greet", "Halloween Surprise",
Parks has the edge on Halloween episodes for sure, and these three are all so great, there's no way I could choose just one! While the first two feature very memorable Halloween parties, "Halloween Surprise" is the best of the bunch with one of my favorite moments in TV history (SPOILER: Ben's proposal!!).
Best Costumes
: Tom as T-Pain, April as a Sumo Wrestler Who Lost Weight, Ann as Olympic Gold Medalist, McKayla Maroney and an Eggplant
Honorable Mention:
Boy Meets World
- And Then There Was Shawn
This technically isn't a Halloween episode since it first aired in February 1998, but it has enough scares to qualify (Mr. Feeny's scissor-stabbing death scene really freaked me out as a kid and I know I'm not alone in that). If I catch it in re-runs this time of year, I have to drop everything to watch Cory, Shawn, and Topanga solve the mystery of the John Adams High killer (spoiler alert: it's Shawn!) and make it out of detention alive.
Two other spook-tacular episodes for your Halloween marathon:
Everybody Hates Chris
-
"Everybody Hates Halloween" (it perfectly captures that weird feeling when you're too old to be trick-or-treating but too young to do anything else on Halloween) and
Ben and Kate
- "Scaredy Kate" (an episode that embraces the nerd in all of us - Kate as Babe Ruth Bader Ginsberg wins
best costume in the countdown
).
There you have it! Now you can keep the spooky spirit alive all the way until Thanksgiving. Don't forget to have candy for breakfast for the next week - it's tradition.
Catch all you ladies and ghouls next Sunday for more TV fun!