Back in June when I put
Graceland
on
my summer TV list
, I knew I was going to like it, but I assumed it would be a show that I would drop in on every now and then; a fun distraction to have on in the background while folding laundry or paying bills.
Boy was I wrong.
Graceland airs on USA, Thursdays at 10PM
Graceland
is really good, you guys. To me, this show has the perfect mix of breezy summer fun and intense spy intrigue. And while most USA series are tailor-made for passing out in front of after a day at the beach, this one requires a little more attention, but it's SO worth it. Haven't seen it yet? Here's a brief recap of the first third of the season to get you up to speed.
**LOOK OUT! SPOILERS AHEAD:
I'll be giving away some very important plot points below, so if you want to head over to
Graceland
yourself first, episodes 1-4 are currently available on Hulu and usanetwork.com.**
This is the true story. Of seven government agents. Picked to live in a house. Work together, and--ok, you get it. It's
The Real World: Southern California
except instead of working at a tanning salon or promoting a night club, these seven strangers are undercover FBI, DEA, and ICE agents living in an ex-drug lord's sweet, beach front pad - and the craziest part is, this really happened!
Episode 1 : Pilot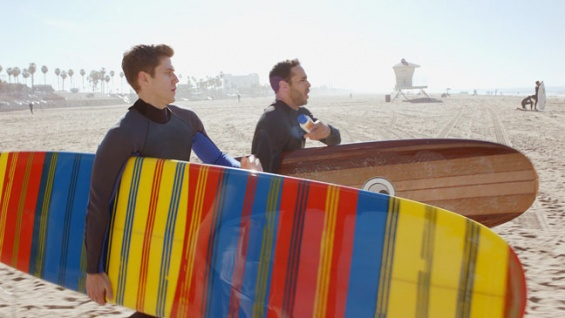 In the first episode, we meet recent Quantico graduate, Mike Warren (Aaron Tveit), a rookie with a bright future at the FBI who has been assigned to Graceland for training
under senior agent Paul Briggs (Daniel Sunjata). After a tour from friendly agent Johnny Tuturro (Manny Montana), Mike is given the room of recovering DEA agent Donnie Banks (Clayne Crawford) who was recently shot by a member of the Russian Vzakonye crime family during a drug deal gone wrong. Mike receives a not-so-warm welcome from Donnie's partner, DEA agent Lauren Kincaid (Scottie Thompson) and ICE agent Dale Jakes (Brandon Jay McLaren) but sparks begin to fly when he meets sexy undercover roomie, Charlie DeMarco (Vanessa Ferlito). After getting in with the Vzakonye Cartel, Mike is asked to prove himself by killing the now-wanted agent, Donnie. He pretends to do the deed, and is almost shot by one of the Russians before being saved by Briggs. Mike has been initiated into the family only to discover the real reason he was placed at Graceland is...DUN DUN DUN...to investigate Briggs!
Bonus USA Summery-Goodness:
Hot Guys Surfing! Palm Trees! Colorful Birds!
Episode 2: Guadalajara Dog
After witnessing last week's shooting, Mike goes in for an FBI psychological evaluation with Juan Badillo (Pedro Pascal), but he's no shrink - he's the case manager who Mike will be reporting to in his investigation of Briggs. Meanwhile, Jakes uncovers a bunch of illegal cop-killer bullets during a bust which help Mike and Briggs in their mission to get closer to big bad crime-lord, Bello (Gbenga Akinnagbe). Later, Charlie takes Mike on an undercover karaoke date where he meets his sixth roommate, DEA agent Paige Arkin (Serinda Swan) who is investigating gangster Bobbi Moi. The agents orchestrate a complex plan in which the bullets they sold to Bello's second in command, Eddie, are intercepted by Bobbi Moi, who is promptly arrested by the Feds. To buy a round of drinks for the team, Briggs skims some money off of the pile they got from Eddie for the fake bullet sale - could this be why Mike was assigned to investigate? We might not find out, as the episode ends at the docks with Briggs pointing a gun at Mike's head, asking who he's been talking to. CLIFFHANGER NUMBER 2!
Bonus USA Summery-Goodness:
A Beach Bonfire! More Colorful Birds!
Episode 3: Heat Run
Looks like Briggs still isn't onto Mike's secret investigation - turns out Bello and his men were lurking in the shadowy docks, and Briggs' confrontation of Mike was all an act designed to trick them into turning on each other. This works, and Bello views Mike and Briggs as loyal to the cause, blaming (and later, maiming) Eddie for not losing the mobsters who robbed them. Meanwhile, Lauren is still trying to avenge Donnie, so she concocts a plan to bust the Russian mob on some stolen cars, which goes horribly wrong. Her cover potentially blown, she takes matters into her own (stupid) hands and goes back undercover against advice from Briggs. After Lauren's risky behavior causes more carnage, Briggs plants a tracking device on her car and makes it look like it was the Russians, leading to her removal from Graceland. Mike discovers this because, as we find out, he
is
investigating Briggs due to suspicion that he's been stealing money from the agency (suspicion which was confirmed last week, so this seems a little thin, but whatever). Briggs explains that he was protecting Graceland by burning Lauren, and he would do the same to Mike if he had to.
Bonus USA Summery-Goodness:
Frisbee in Bikinis! Undercover Dating Tricks Revealed!
Episode 4: Pizza Box
Charlie makes her ancestors' three day pasta sauce recipe for the roommates (and is slowly becoming my favorite character) while Paige gets "arrested" in an undercover street bust, only to discover some interesting details about the strain of weed that's showing up on the streets. Turns out it's being grown by a farm that is supposed to be supplying only to legal dispensaries, and the owner, Ashika Pearl (Mia Kirshner), used to have the hots for Jakes. The agents send Johnny undercover as a Mexican gang member, but after sleeping with Ashika (so dumb!)
his fake tattoos come off on her sheets
, blowing his cover and leading to a tense shoot-out at the farm. Meanwhile, Mike impresses Bello with his weaponry skills (getting closer to his inner circle than Briggs ever has) but the now eyeless-Eddie gets suspicious and jealous of their new relationship. Mike gets called to a meeting with Bello - on sauce night, dammit! - in which Eddie tries to prove Mike is a Fed. Bello thinks Eddie is lying, and gives him a gun which he
kills himself
with in front of a traumatized Mike. After canceling his date with Abby (Jenn Proske), we're left with the feeling that Mike may be in over his head as we see him break down and cry over the housemate's dirty dishes.
Bonus USA Summery-Goodness: Not too much in this one, actually. But there is an outdoor weed-farm BBQ scene!
Phew! That's no easy to show to recap, let me tell ya.
But now you have everything you need to jump right into
Graceland
.
I haven't seen the newest episode yet, but we're promised some steamy action between Briggs and Charlie, so get your popcorn ready!
Like what you read? Subscribe on
Bloglovin
for e-mail updates! It's a great way to follow all of your favorite blogs without missing a single post.